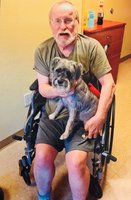 Donald Downey
Donald Downey passed away on 9/3/2019 at BelTerra Nursing home in McKinney, Texas. He was battling cancer and dementia.
He is survived by his wife, Vickie, Daughter, Jennifer Downey, Step Son, Jeffrey Gochnour and Melissa Gochnour, Daughter in law.. Grandchildren-Matthew and Michael Smith, Kaitlyn Morton, Dylan and Ashleigh Nirmul and Brenden Gochnour. He loved his family. Brothers-Bryan and Doug Downey and their spouses and family.
He served 2 years in the navy. He was proud to have been able to serve. He was on an Oiler, USS Salamonie, in the mid 60's.
He enjoyed working on cars, always created projects to work on.
He was born in York, PA. May 10, 1947. His father was in the military and they moved around and spent some time in Denison and Pottsboro, Texas. He loved Texas so much that He moved back to Texas with his family in September, 1991.