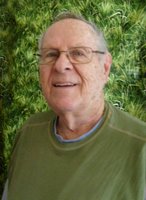 Francis S. Gill, Jr.
Francis "Frank" S. Gill, Jr. of Richardson, TX, passed away on August 26, 2019 at the age of 89.
Frank was born in Painesville, Ohio on November 13, 1929, shortly after the stock-market crash to Francis S. Gill, Sr. and Helen Donaldson Gill and spent his entire childhood living in the house that his father built. Frank began working at the Storrs & Harrison Nursery at age 8. He worked his way through college at Sears and graduated from Kent State University in 1951 with a B.S. in Accounting. He began his post-college career at Diamond Alkali. Frank married Maxine Jenkins in 1954 and had 4 children: Cathy, Susie, Shawn, and Paul. He was widowed in 1968 and married Elizabeth Patricia "Pat" Giblin in 1969. Together, they had 2 boys, Paddy and Tim. Frank spent 20+ years working at General Electric before taking on the role of General Manager at a turkey farm owned by a friend from college. Five years later, he moved to Sarasota, Florida. Here, he again worked at Sears for several years before taking on the role of Administrator at St. Michael the Archangel Catholic Church on Siesta Key. He oversaw a very successful remodel and large addition to the church. After retiring, he relocated to the Dallas area and was finally able to live near one of his grandchildren for an extended period of time. He spent the last 12 years watching Eva grow into the beautiful young lady she is today.
Frank had a big heart that just got bigger, softer, and more generous over the years. He made donations to several charities, with St. Jude Children's Hospital and Boys' Town being two of his favorites. He loved watching racing – especially Formula 1 and Indy Car. He spent many race weekends long ago in Indianapolis, even getting to know a few drivers and team owners. Cars were Frank's passion – ANY kind of car. He bought and sold an endless supply of cars through the years. You never knew what he might pull up in next.
Frank was a faithful man who prayed daily for so many people near and far. We take comfort in knowing he is with our Lord in heaven and reuniting with loved ones.
Frank was preceded in death by his brother, Don, and his first wife, Maxine. He is survived by his wife of nearly 50 years, Pat, and his 6 children: Cathy Malady, Mentor, OH; Susie Torpey, Mentor, OH; Shawn Gill, Salisbury, NC; Paul Gill, San Antonio, TX; Patrick Gill, Sarasota, FL; and Tim Gill, Dallas, TX. Frank leaves behind 8 grandchildren and 7 great-grandchildren.
He will be laid to rest Saturday, August 31 at 9:30am at St. Joseph's Catholic Church in Richardson, TX.
In lieu of flowers, please consider making a donation to St. Jude Children's Hospital.